A large crowd gathered in the Brownsboro High School Little Theater Wednesday to celebrate three student-athletes signing national letters of intent to play collegiate sports.
Softball players Kirsten Anderson and Becca McGough signed with Henderson State University and Centenary College while Jamal Bell signed to play football for Tyler Junior College.
"I have been with these students all four years now and I have gotten to see them go from freshmen who did not know where they were in the building to the young women and young man they are today," Brownsboro High School Principal Brandon Jones said. "There's not better examples of what a student should be in our community. We are really, really proud of them and their accomplishments. I am most proud that they are continuing their education and doing something they enjoy in the process."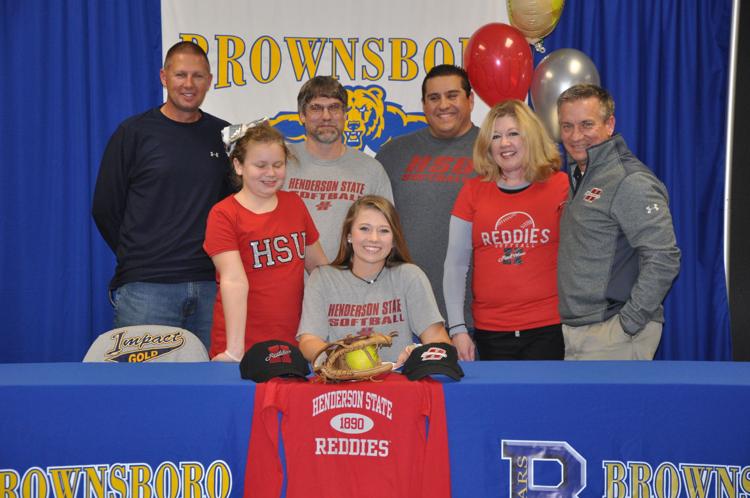 Anderson plans to pitch for the Henderson State softball team while studying biology.
"I am excited I get the chance to play after high school because a lot of people don't get this opportunity," Anderson said. "Henderson State really felt like home to me."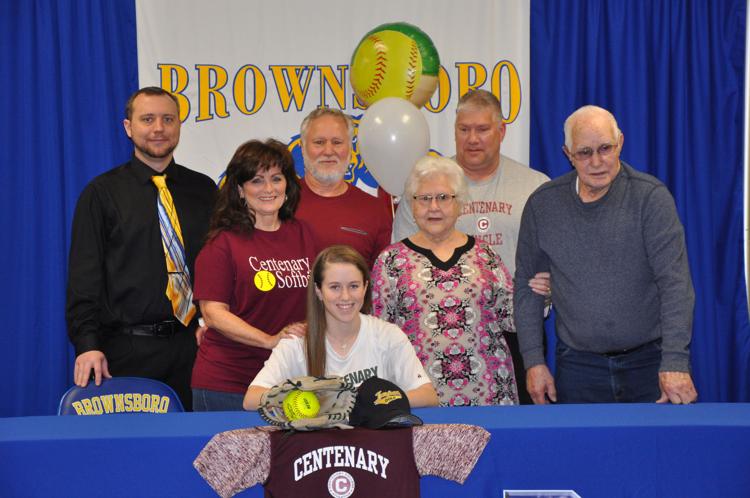 McGough hopes to play third base or middle infield for Centenary while studying to become a coach. She plans to study mathematics.
"I am really blessed to have the opportunity to continue playing softball. It is what I love to do," McGough said. "Centenary is a small campus where you feel like you are at home with everybody. The coach was another big part in me choosing it."
Brownsboro head softball coach Ashley Endsley praised both players' work ethic and dedication to their trade.
"I want to thank both Kirsten and Becca for what they have done for Brownsboro softball over the past four years. They have been great role models for our team and community," Endsley said. "On the field they lead by example and do everything that is asked daily of them."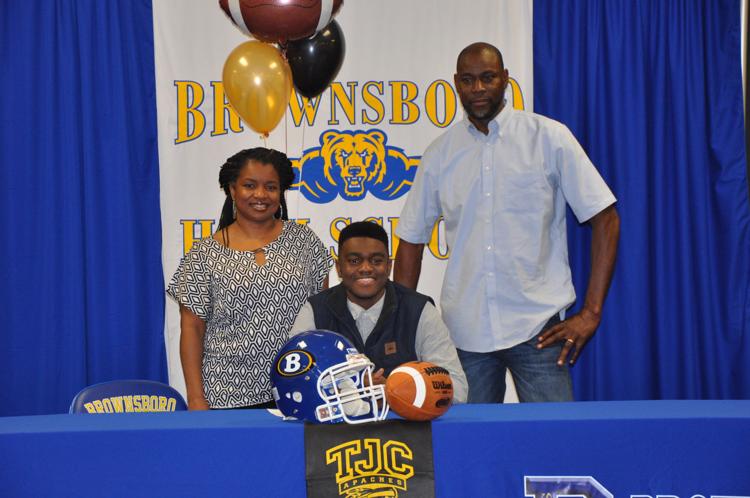 Bell plans to play wide receiver at TJC after spending time as quarterback for the Bears last season.
"I plan on going there, getting my degree and get bigger, faster and stronger. Hopefully, I will then be able to move on and play at a bigger college," Bell said.
Since TJC does not offer a pre-veterinarian program, Bell plans to study kinesiology for athletic training. If he transfer to a Division I university, he plans to study pre-veterinarian courses.
"He is multi-talented. He has played a lot of positions for us and we are going to miss him," athletic director Jason Hooker said. "We are super proud of him and the role he played for us. On behalf of our coaching staff, I want to congratulate him. We are excited for him and what he is going to do in the future."
Bell played receiver for the Bears his sophomore and junior seasons before switch to quarterback.